Relocating To South Korea After The US Election? Here's What You Need To Know
Looking to Move Abroad?

Numerous people and celebrities have steadily said that if Donald Trump won the US election they would move to another country. Some of those people, perhaps even you, have dreamed of what it would be like to move to Korea, whether it's with your family, individually to teach English or just for a new adventure! Whether you are planning a move due to the election, or you just know how incredible living in Korea can be, you may want to have some detailed information to assist you with your plans of making a move overseas to the "Land of the Morning Calm". No matter why you're moving, here's what you need to know about relocating to South Korea. 
South Korea earned that beautiful nickname due to the majestic beauty and incredible mountain ranges that span across the country. On top of that, the natural waters in the country are splendidly clear and the people are some of the friendliest in all of the world. While South Korea is not typically the first place American expats think to relocate to, Korea has become quite popular in the last several years, known for being a leading 'digital city' and magnificent natural beauty. 
What To Expect When You Arrive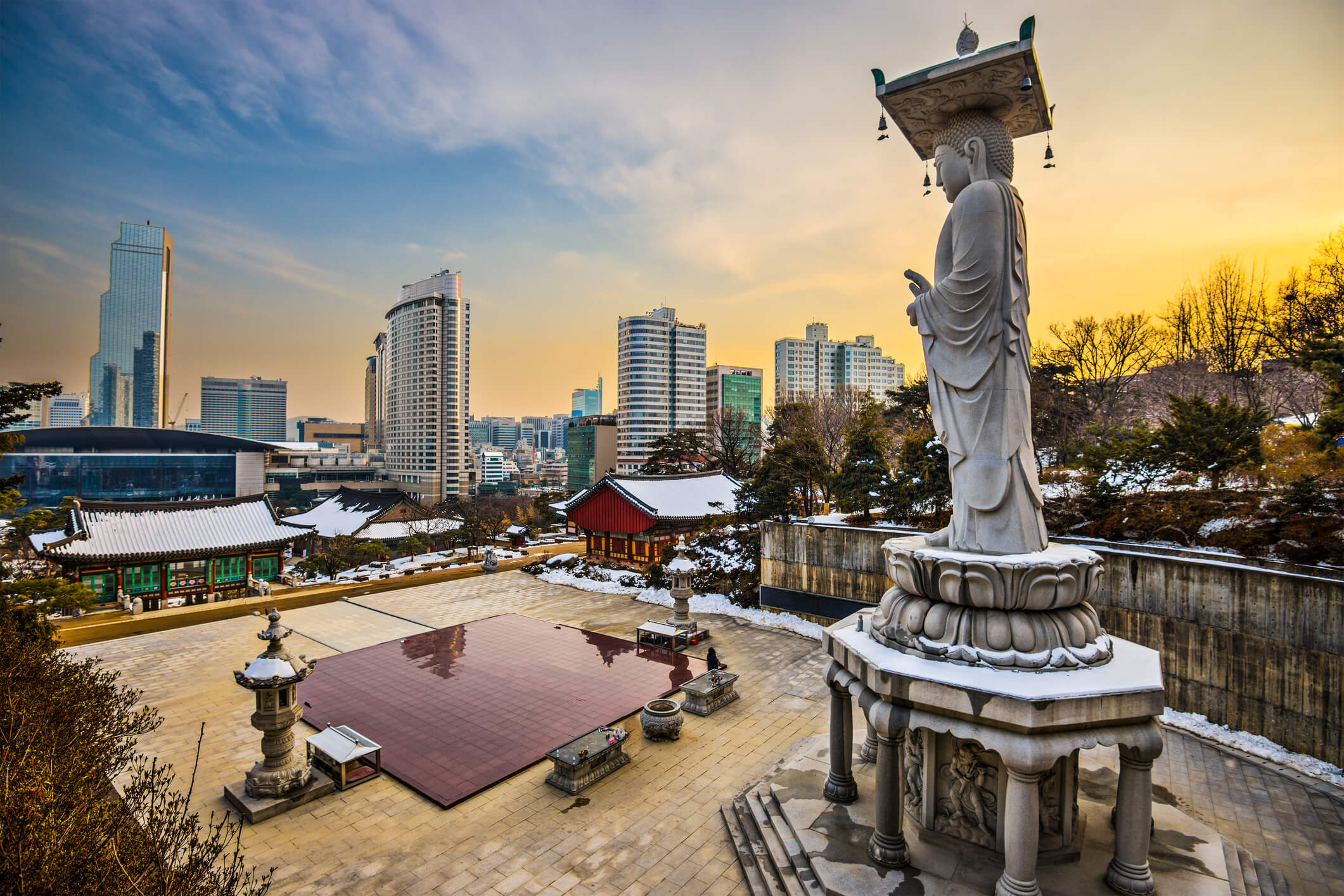 When you arrive in Korea, you can expect to see brilliant glass skyscrapers contrasted by ancient temples. South Korea has incredibly strong ancestry and culture, while at the same time leading technological advancements globally. 
One of the most challenging parts of moving abroad for anyone is adjusting to the culture shock. This is especially true for expats moving to Korea, a relatively tiny island peninsula that has developed a fierce and intricate culture over the past thousand years.  You will quickly see that a great majority of the nearly 50 million residents are ethnically homogenous with a hierarchical social structure rooted in Confucian ideology. As a foreigner, unless you are in Seoul or another large city, you will most likely be stared at by the locals– don't be alarmed! It's normal, they probably haven't seen many foreigners. Once you start chatting with the locals, you'll see why they're known as some of the fiendliest folks around. 
It is best to know the language (or at least enough to get around!) when you arrive. Once you can speak to people in the surrounding community, it will help make your transition much simpler and can greatly enhance the quality your daily life. If you do not speak the language, it can cause poor communication and without communication, it will be extremely difficult to shop, socialize or to work if you plan to work upon arrival. Most signs, restaurant menus and other written information is written in Hangeul, which is the written language of Korea. Most people speak only Korean but if you move to a large city, you'll find that many will understand and speak English as well.
It can be expensive to live in Korea, so be prepared before you arrive by locating adequate housing and preparing for other costs including dining, travel and utility expenses. Finding a home in or close to a large city is a good idea when you want many things to do near home, but the prices for housing in cities such as Seoul and other larger areas will most likely be higher than if you choose to live in a rural area outside of the city.
You'll also want to get a phone and sim card, which can be a hassle because you need a foreign resident card (which can take months!). My advice: skip the headache and go with the arrival store; all service is in English, and your phone will get delivered to the airport or to your new home!
If you are worried about crime, you will be happy to know that South Korea has a very low violent crime rate. Petty crimes like theft and pickpocketing are more common, but when you take the time to keep valuables out of sight and not flaunt them on your body where a thief can easily see them, the risk of theft is slim. You're more likely to get pickpocketed in Paris or New York than Seoul or other large Korean cities. 
Working in Korea
While it is a good idea to try to locate work prior to moving to Korea, it is possible to find employment once you arrive if you know where to look. If you can speak English as well as Korean, this can greatly increase your chance of finding a job locally as many of the larger companies try to hire bilingual employees as they deal with English speakers through their business. If you cannot speak Korean, it is very unlikely that you will be able to find employment at all as an expat at smaller Korean businesses, unless you find work at a large multinational corporation. Your best bet? Applying to be an English teacher! All you need is a university degree and a desire to make a difference.

Moving Your Personal Property

Once you have taken the time needed to really learn about Korea and what to expect upon arrival, you will need to determine how to move your personal property as well as your car to the country when you make the move. The first thing you will need to do is apply for a residence visa and if you are taking family, each member must be applied for ahead of the move. If you plan to work, you also need to apply for employment authorization. If you plan to drive, an international driver's license is required and you will need to apply for a Korean driving license when you arrive in the country.  
If you plan to live in Korea for at least one year, you can import a personal car. To do so, you will need to follow a few simple rules for customs approval. You can only import small and medium cars and it must be in your name for no less than three months before importation. Cars from Japan are not allowed in Korea. If you ship your car overseas within six months of your arrival, customs will consider the car as part of your household property and they will clear it quickly. To import a car, you will need the following:
Vehicle Registration

Invoice or Sales Receipt

Proof of Insurance

Customs Declaration

Passport

Work Permit for One Year
Before you move to South Korea, you will also need to arrange to have your personal property and household goods shipped. Most likely, the same company that handles the car shipment will be able to assist with the shipment of your household goods and other property. If not, you will need to contact an international moving company as well as your shipping company to handle the car.
You will also need to make sure you have legal copies of your social security card, birth or marriage certificates, vaccination and medical records and all insurance policies. Be sure to update your bank account to alert them of where you will be and have your current utilities shut off before you leave for Korea. The biggest thing you need to do before making the move is to take time to learn as much as possible about the country before you plan your trip so you can adapt quickly and really enjoy all the great things about your new home in Korea. 
Need help? Feeling overwhelmed? Get in contact with expats who've done what you're about to do! Join Facebook groups andread blogs (like this one!). The Arrival Store also has transition experts looking to help make your transition as smooth as possible.
Need help getting the wheels in motion to move abroad? Chat with our Transition Experts for free!