Business Travel in Seoul: Top 5 Things to Do and See
Whatever the reason, getting to travel with most expenses paid is a luxury. But business travel can be a grind. You find yourself moving from meeting to meeting and working in between. But finding a few gaps in your busy schedule to experience the city you're visiting can be well worth it–especially when that city is Seoul!
Heading out into Seoul's wild unknown can be a great bonding experience with colleagues and business partners, or it can provide individual solace from your fast-paced work schedule. So what should be the focus of your down time when in Seoul for business travel?
Here are top 5 things to do in the Seoul during a business trip, as written by someone who spends nearly every weekend in Seoul. And someone bookings.com refers to as a 'Seoul Guru'… So you can trust me on this. Right?
1. Partake In The City's Famous Nightlife
Drinking culture in South Korea is huge. Often, it's considered the best way to bond with friends and colleagues. Whether or not you have the time (or desire) to hit up some of Seoul's renowned clubs, enjoying a few drinks in this bustling city is a must. Drinking is a favorite pastime among the locals and expats alike. Find yourself a bench outside of the GS convenience stores located around every corner, purchase a cheap and local beer, and sit down to appreciate the exceptional people-watching with your colleagues or a client.
If you prefer a classier alternative, I recommend directing yourself to one of the city's best hole-in-the-walls for one of the best martinis I've had: 12 Stairs. Located amongst Itaewon's many backroads, 12 stairs takes you back to the roaring 20s which its magnificent speakeasy vibe, ambient lighting, and classic Prohibition-style music. The bartenders are friendly and they stay open into the wee hours. It's a great place to drop your briefcase after a long day and relax amidst good company. 
To get there: Take the metro to Itaewon, Exit 4. Walk straight until you see Dillinger's Bar on your left. Follow the stairs down. Once at the bottom, walk a bit and take a right at the main street. You'll walk straight, passing a CU. 12 Stairs is located behind Guilty Pleasures Bar and up a flight of stairs!
2. Get Some Work Done–While Simultaneously Petting Dogs
Seoul is pretty well-known for its large selection of animal and themed cafes. For the price of a coffee or smoothie, you can sit in a cafe while dogs or cats roam around you. Not limiting you to only dogs and cats, you also have the choice of raccoons, sheep, and bunnies, just to name a few. Animals aren't your forte? You can also settle in playful themed cafes such as a Hello Kitty Cafe, Peanuts Cafe, Harry Potter Themed Cafe, Poop Cafe or a Wedding Dress Cafe. (And believe me, there's more creative cafes where that came from!)
You can stumble upon these cafes pretty easily and even by accident. Or a simple search online will show you exactly what you're looking for. Want to make it even easier? Have a Korean SIM card waiting for you and your colleagues with The Arrival Store, so you can search for cute puppies from your phone no matter where you are!
What better way to get some work done than in a fun and uniquely Seoul environment?
3. Indulge In The City's Many Shopping Spots
After a big business meeting, you need to unwind. And what better way than through retail therapy in one of the most fashionable places in the world? Get out and about after a day cooped up at your computer and check out the city's culture all in one spot!
Myeong-Dong is one of my favorite stops. Venture up from the Myeong-Dong subway stop and find yourself surrounded by endless streets of food vendors, large malls, and street carts full of clothes, shoes, makeup, bags, and souvenirs. Even if you don't have much time to actually shop, it's a great place to stop and pick up some souvenirs for your loved ones back home.
If outdoor shopping isn't really your thing, wait until the sun sets and head to Dongdaemun. Historically famous as Seoul's Garment District, and also home to Seoul Fashion Week, Dongdaemun won't disappoint. With multiple 10-12-story malls, they have anything and everything your heart desires. Not counting the different vendors situated outside the malls. And the best part? They're almost all open 24 hours. Even if you're stuck working past dinnertime you can head to Dongdaemun for dinner, a drink, and a unique shopping experience.
If you're not necessarily on the hunt for a bargain and are looking for a beautiful ensemble to wow a client, I suggest making your way to Jamsil and heading to the immaculate Lotte Mall. Each floor is dedicated to a specific audience, with the top levels being dedicated to a plethora of restaurants and a CGV movie theater. You can head to Jamsil to indulge in the higher end designers as well as Korean designers. You can find everything from children's clothes to a new bed frame.
Seoul's shopping is a great way to treat yourself after a busy work day–And your loved ones waiting for you back home!
4. Take in The City's Culture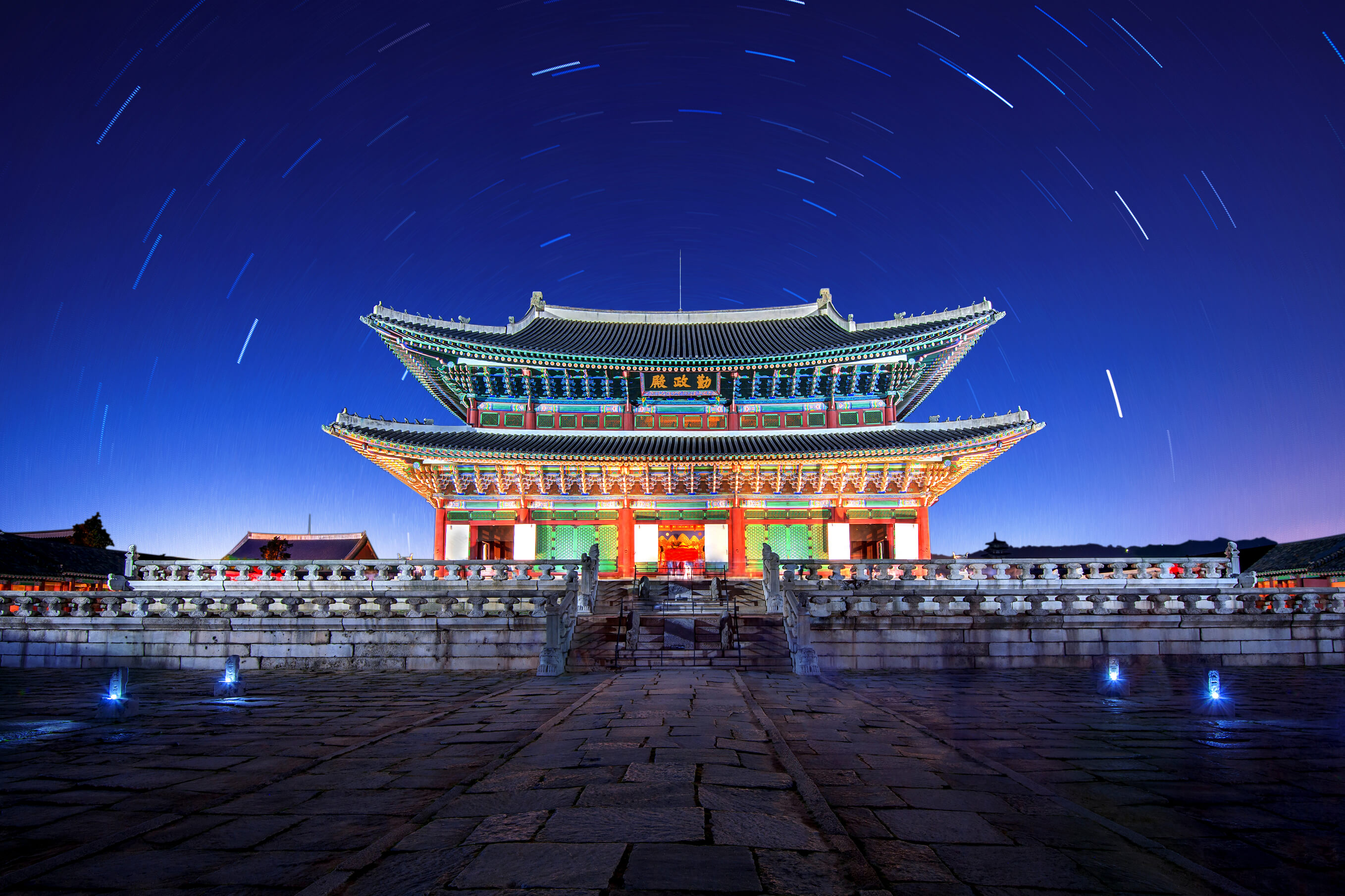 Even on a time constraint, you should make time to check out at least one of Seoul's gorgeous palaces. Gyeongbokgung Palace is the most centrally located (about 1.5 km for the city centre), and probably the most famous of the palaces. Originally built in 1395, the palace we see today is a reconstruction. Seeing the country's original architecture situated between the modern skyscrapers of today is something worth taking the time to see. You can join a tour group, rent traditional Korean clothing, or simply wander around yourself.
5. Wander the Streets of Insadong
Located conveniently close to Gyeonbok Palace, Insadong is a traditional district in the center of Seoul. Here you can find traditional goods, tea shops, and take in the true feel of Korea. Off the main strip, there are alleyways full of unique shops, galleries, traditional restaurants and cafes. Locals will be selling crafts, jewelry, and food along the way. There are usually street performances as well, which make for an enjoyable stroll!
Whether visiting for a short or long time, there is an infinite amount of activities and sights to see in Seoul. Picking and choosing what to put on your list can be overwhelming. Hopefully this list makes it a little easier if you ever find yourself in South Korea for business travel! Don't be overwhelmed by the crowds or the size of the city. Take it all in and enjoy the ride!
About the Author:
Hello! My name is Caroline. A midwestern girl with impatient feet and a heart to travel! I am currently living and teaching in South Korea but have also called Spain my home. Aside from traveling, I enjoy binge-watching Netflix, Harry Potter marathons, my Shiba Inu back in America, a great book, and my selfie stick. I hope you enjoyed reading my post and much as I have enjoyed writing it!